The Feigenbaum Research Group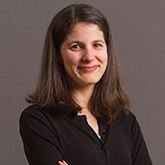 Dr. Heidi P. Feigenbaum is a Professor in the Mechanical Engineering Department at Northern Arizona University in Flagstaff, Arizona. She received her Ph.D. in Civil Engineering from the University of California at Davis in 2008. For her doctorate, she studied plasticity modeling with Dr. Yannis F. Dafalias and derived a new theory based on thermodynamic principles that allows for an asymmetric yield surface distortion to be captured, thereby improving predictions during cyclic plastic loading. While continuing to work on plasticity modeling, she also has active research projects in modeling magnetic shape memory allows and predicting the behavior of artificial muscles. She is interested in wide array of topics in continuum mechanics, computational mechanics, and biomechanics.
The Feigenbaum Research Group studies a wide variety of topics in theoretical and applied mechanics, including, but not limited to, plastic deformation of materials, adaptive materials, structural mechanics, continuum mechanics, biomechanics, and biomimetics. We are part of Northern Arizona University's Department of Mechanical Engineering, located in beautiful Flagstaff, AZ.
Our group is part of the Department of Energy funded MissionDAC project lead by Dr. Jennifer Wade and the Climate Solutions Engineering Lab

We received funding from the Army Office of Scientific Research for a project entitled "Modeling the Mechanics of Multiaxial Ratcheting"